📢Handmade
📢Made of linden wood. Painted with gouache and tempera. Coated with linseed oil varnish.
Materials: gouache, tempera, linden wood
Height - 17cm (6.8 inch), width - 9 cm (3.6 inch)
Color: Multicolor
Weight: 200g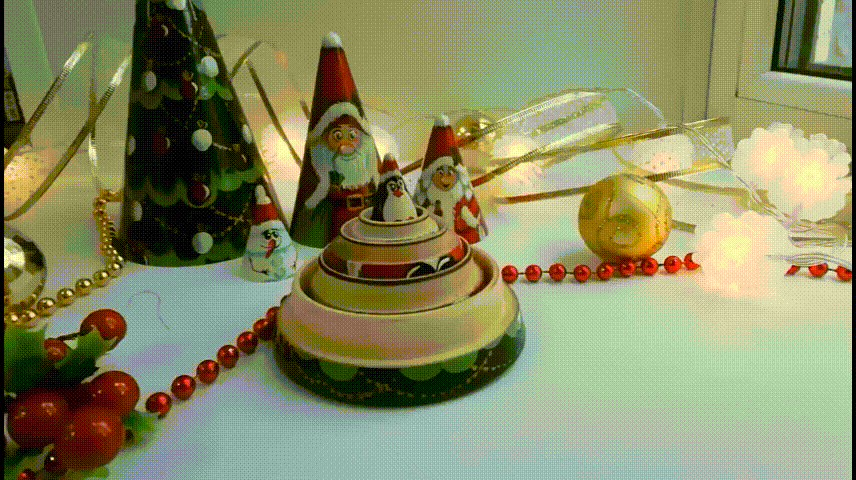 🚩The nesting doll painting is a slow and thorough process. Firstly it gets primed and then it dries for a day, later it gets polished and painted. After that it gets covered with 3 coats of varnish, each of these dries for a day.
🌾The nesting doll is carved from linden wood. Environmentally friendly materials, such as watercolour, gouache and tempera, are used in the painting of the dolls. It gets covered with safe linseed oil varnish.
🚩Will be a good toy of your children and for those who love and collect exclusive nested dolls. Can be a great gift for your children, friends and relatives on the New Year. a year or Christmas, or you can give it as a gift just to please.
🚩This is a great Christmas decor, which will make your interior beautiful, festive and pleasant inimitable.
You can decorate the interior of the children's room with them, beautifully placed on a shelf in the room - a bright accent in the interior. Due to their bright yellow color, they will attract attention and raise your mood - after all, it is impossible to look at them without smiling!
Note: This product does not contain bottom support
📦The nesting doll is packed in a handmade cardboard box. It gets carefully packed in a post box with other packaging materials after that.
Click the "Add to Cart"and "Buy Now"button to GET YOURS now!